In Memory
Mercy Gallego (Jacobs)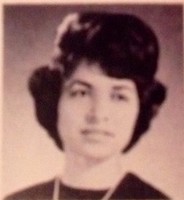 At THS, Mercy was a Home Room Representative, in Girls' League, and Cervantes Club.
On December 7, 1966, the following announcement appeared in Tucson Newspapers:
A Jan. 28 wedding at Santa Cruz Gaelic Church is planned by Mercy Rebecca Gallego and Michael G. Jacobs. Mercy, daughter of Mr. and Mrs. Florencio V. Gallego, 372 W. 18th St., was graduated from Tucson High School and the Chenault School of Beauty Culture. The bride-elect is a member of Club Azelea. Mr. Jacobs, a graduate of Tucson High School, ; is employed by the Arizona State Highway Department and the Star-Citizen. The prospective bridegroom, son of Mr. and Mrs. Benjamin P. Jacobs, 21 W. Council St., is a member of the Arizona Army National Guard.
Mercy died 01/28/2001.