Tucson

High School




Class Of 1964
Time is flying by since our great 50th reunion. This is the thank you note we received from the Badger Foundation in appreciation for our donation in purchasing a special brick for our class. It had been placed in front of the Hall of Champions right before the reunion.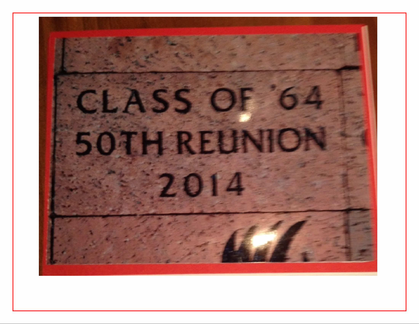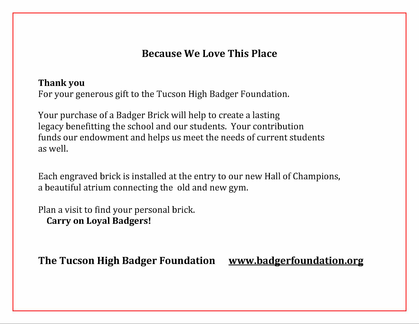 ---
---
The Class of 1964 presented $3,400 to the students at Tucson High Magnet School
on November 24.
Not only did we have a wonderful reunion weekend, but we made a substantial contribution to help current Tucson High students. In spite of pricing the events very little over hotel costs and minimizing our expenses, we were able to raise this money because of the enthusiasm of THS '64 classmates who showed up in large numbers Friday and
Saturday night
. The total guest list was 185
Friday night
and 190
Saturday night
, including the participation of 138 THS '64 Badgers.
Most of our Tucson High donation funds came from reunion fundraisers and cash donations. Thanks to those of you who purchased football T-shirts, DVDs, and 50/50 tickets! We appreciate everyone who came to the reunion and supported our class!
Paul Mann sent us a link to a video of the THS Band as featured on on KGUN 9 television
Our 50th Reunion Celebration!
September 26 and 27, 2014
THANK YOU THS CLASS OF 1964!
Thank you Everyone who made our 50th Reunion a success.
Thank YOU for being there! It was wonderful to see so many people from the Class of '64 together again.
Thank you especially for your memories concerning our deceased classmates. They are with us in our hearts.
Thank you for the emails and well-wishes from the classmates unable to attend.
Thank you for all the amazing compliments about the Reunion -- in person, on the website, by email! We appreciate them very much.
Thank you for the photos already coming in.
Thank you, in advance, for keeping your contact information current. We don't want to lose you ever again!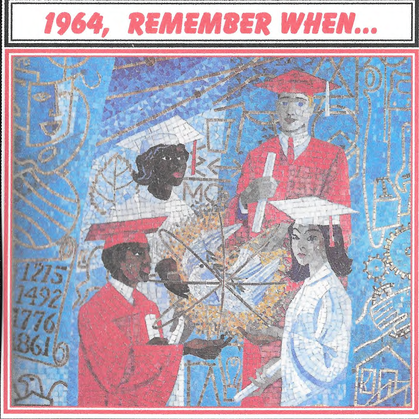 ---
---
1964,
Remember when . . .
..

... it snowed in March, we went to the prom, we marched in the rodeo parade, we beat Amphi, we watched the Senior Follies, we graduated!
What a wonderful chance to reconnect! Please add your photos and comments!
You can add photos in the new
reunion photos
link on the left. Messages can still be added to the message forum or in a private message on the classmate profile!
Want to see who attended our Reunion?
Click on Reunion Attendees!
Friends contacting Friends
You may send a message to a classmate who has joined the website by clicking on their name in "Classmate Profiles." Send a private message by clicking the envelope icon under their class picture.
If you are trying to reach someone who has not joined the website, and who is not on the Missing List, contact Marilyn Romine Huffman 520-881-2840 or gunshipdutch@aol.com.
Were you at the 63/64 Reunion in 2003? Go to THS News to see the pictures sent in by Margie Navarro Strutz.
Try the THS News tab on the left for non-reunion items of interest to the class.
Recent information about our teachers
Current THS events of interest to our class
You can submit THS News by sending a note via the Contact Us link on your left. We will share it on the THS News page.