Tucson

High School




Class Of 1964
Welcome to Our 50th Reunion Celebration!
September 26 and 27, 2014
Tucson Hilton East
The deadline to reserve a blocked room at the Hilton at our reduced rate was August 26. You may still use the link below to see what is now available at the Hilton.
Want to see who is coming to the Reunion?
Click on Reunion Attendees!
It's not too late to join the fun!
September 20 - deadline to sign-up for the Football Luncheon. Click on the Reunion Details Page
September 26 -27 REUNION EVENTS!
September 26 Meet and Greet -- Upstairs at the Hilton (Terrace, Private dining room, Poolside)
September 27 Tour THS -- Main steps 9:45
A chance to walk the halls again, and also see the Badger
Brick purchased to honor the
Class of 1964 50th Reunion.
It is located in front of the Hall of Champions.
You won't want to miss the special surprise (50 years in
the making) at the beginning of the tour!
Parking : The parking lot in front of the main bldg. should be
available, with handicapped spots right in front. The second
area would be the parking lot by the vocational bldg.
Golfing, Football luncheon, Swim Meet
pre-registration required. Check Reunion Details Page.
Dinner/Dance 6:00 - 12:00 Ballroom (cash bar)
Registration 6:00 - 7:00
Buffet Dinner 7:00 - 8:00
Welcome 7:45
Reminiscing, Dancing to the Oldies 8:00 - 12:00
Dessert at 9:00
September 28 -- Breakfast on your own.
1) Hilton breakfast buffet 6:30 - 10:00, Free to guests.
Open to the public.
2) Tucson Racquet Club breakfast buffet, upstairs 9:00 - 11:00
Friends contacting Friends
You may send a message to a classmate who has joined the website by clicking on their name in "Classmate Profiles." Send a private message by clicking the envelope icon under their class picture.
If you are trying to reach someone who has not joined the website, and who is not on the Missing List, contact Marilyn Romine Huffman 520-881-2840 or gunshipdutch@aol.com.
1964,

Remember when . . .
..

... you couldn't wait to see what your friends wrote in your yearbook?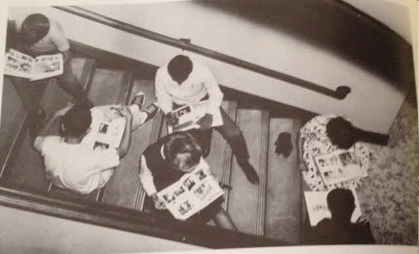 Ruben Armenta had a great suggestion: "Bring your yearbook to the Reunion to be signed!"
Were you at the 63/64 Reunion in 2003? Go to THS News to see the pictures sent in by Margie Navarro Strutz.
Try the THS News tab on the left for non-reunion items of interest to the class.
Recent information about our teachers
Current THS events of interest to our class
You can submit THS News by sending a note via the Contact Us link on your left. We will share it on the THS News page.