Tucson

High School




Class Of 1964
Welcome to Our 50th Reunion Celebration!
September 26 and 27, 2014
Tucson Hilton East
The deadline to reserve a blocked room at the Hilton at our reduced rate was August 26. You may still use the link below to see what is now available at the Hilton.
September 12 - deadline to register for our Reunion. Click on Reunion Invitation for more details.
September 20 - deadline to sign-up for the Football Luncheon. Click on the Reunion Details Page
September 26 -27 REUNION!
Because you asked, the Early Badger Special is now the

Procrastinating Badger Special.
The special rate is $85.00 per person until the final registration date of September 12, 2014. See you in September!
'
REGISTER BY MAIL NOW!
click
here!
Friends contacting Friends
The very best way to give everyone the opportunity to come to our 50th Reunion.
If they joined, you can send a private message by clicking on the link directly below the class picture. Check out your friends' classmate profiles using the link on the left, then invite them or send them a private message, or post on their profile page where it can be seen by anyone. It's up to you! If they know you remember them and care, they are more likely to respond or come to the reunion. If they are not online and you need a phone number, contact Marilyn Romine Huffman!
1964,

Remember when . . .
..

... you couldn't wait to see what your friends wrote in your yearbook?
I

f they have joined the website, but aren't on the Attendees List, send them an email and tell them you'd like to see them in September! Can't find them on the website, contact Marilyn Romine Huffman to get a phone number.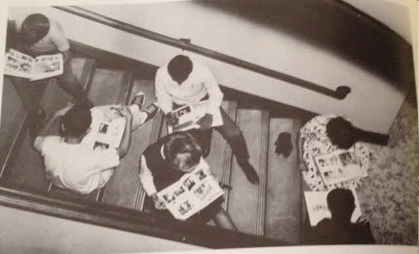 Ruben Armenta had a great suggestion: "Bring your yearbook to the Reunion to be signed!"
Were you at the 63/64 Reunion in 2003? Go to THS News to see the pictures sent in by Margie Navarro Strutz.
Use the direct link below to our Hilton Booking Page, if you want to reserve one our blocked rooms (based on availability). Half of our blocked rooms have already been reserved.
Reservations for the reduced rate will be accepted only until August 26.
Click on the Reunion Details link to the left for information about the Golf Scramble, Swim Team Workout, Football team lunch and other Reunion activities.
Want to know who has signed up for the reunion?

Check out the Reunion Attendees page on the left.
Try the THS News tab on the left for non-reunion items of interest to the class.
Recent information about our teachers
Current THS events of interest to our class
You can submit THS News by sending a note via the Contact Us link on your left. We will share it on the THS News page.